Contact the Capital Investment team for more details about this opportunity
Opportunity
Aberdeen hydrogen infrastructure development programme
Aberdeen City Council is seeking investment and development partners for the phased delivery of a 850 million GBP hydrogen infrastructure development programme.
The council is open to a variety of investor involvement, including debt and equity partners, co-investment and development funding. The programme offers the potential for a long-term relationship with this public sector partner.
Contact the Capital Investment team for more details about this opportunity.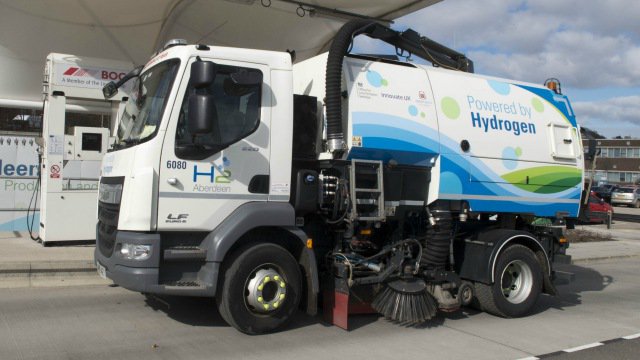 Project background
Aberdeen City Council is seeking to build on its existing 35 million GBP investment in hydrogen production, refuelling infrastructure and hydrogen powered vehicles.
The City Council is now seeking to increase the pace and scale of its strategic hydrogen infrastructure programme, in order to realise its stated ambition for Aberdeen to become a world-class energy hub at the forefront of hydrogen technology in Europe.
About the project
In the first phase of this programme, Aberdeen City Council will be engaging in a strategic dialogue with potential investment and development partners.
It will test their proposals across a range of multi-phased development projects, covering the development of:
hydrogen production facilities and distribution networks
hydrogen refuelling infrastructure
infrastructure for wider hydrogen uses
Hydrogen production facilities and distribution networks
Investment is needed to develop infrastructure for the production and distribution of hydrogen across the region, and into wider markets. The focus here will centre on delivering at the scale required to generate and distribute hydrogen to end users at prices similar to conventional fuels.
Developing hydrogen refuelling infrastructure
Aberdeen currently has 2 operational hydrogen refuelling stations.
The next phase of Aberdeen's hydrogen infrastructure strategy will be to deploy an accessible, convenient and safe refuelling infrastructure network across the city and beyond.
The city is considering a range of investment options to fund this development.
Developing infrastructure for wider hydrogen uses
Although Aberdeen's previous activities have mainly focussed on transportation, other applications for hydrogen could offer strategic benefits. This includes providing power for buildings.
Using hydrogen fuel cells for combined heat and power is an area of active interest for Aberdeen, due to the city's well-established district heating system.
Investment in infrastructure will be central to unlocking hydrogen's wider benefits.
Project promoter and partnerships
Aberdeen City Council is the promoter of this strategic hydrogen infrastructure investment programme. Aberdeen has a long history of innovation and expertise in the energy industry from being at the centre of the global oil and gas industry over the past 4 decades, to now developing a low carbon economy in line with ambitious national targets.
The City Council recognises that hydrogen can support these targets and has a vision for Aberdeen to build upon its global reputation as a world-class energy hub, leading a low carbon economy and at the forefront of hydrogen infrastructure and technology in Europe.
To invest in the UK, get in touch with our team.
Find out more about Invest Aberdeen and H2 Aberdeen.