Exporting to
United Arab Emirates
Growing, diverse economy
The UAE's economy continues to grow and diversification has made it less vulnerable to oil price changes. Dubai has become a major centre for business, logistics, media and leisure. Large investments will be made in infrastructure and other assets associated with Expo 2020 in Dubai, opening up new business opportunities.
Strategic location
Dubai is a regional hub and commercial capital for the Middle East, North Africa and beyond. The UAE is a major entry route into other Gulf Cooperation Council (GCC) countries and an important market for re-export into other countries. Its liberal trade regime attracts capital from across the region.
British presence
The majority of the UAE's population consists of expats, including a considerable British presence. British companies operating in the UAE include BP, Shell, Rolls-Royce, BAE Systems, Mott McDonald, HSBC, Marks and Spencer, Waitrose and John Lewis. Many Emiratis have studied and have homes in the UK, and have a taste for British goods.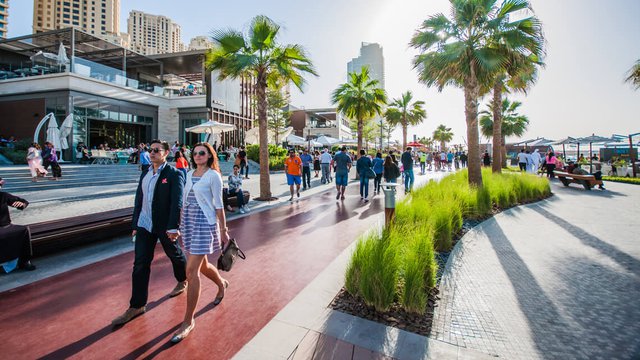 High potential industries in the country for UK businesses
There are opportunities for UK companies across a broad range of industries. Our trade advisers in the UAE have identified particular opportunities for UK businesses in the following sectors.
Preparing to export
VAT
VAT was implemented in the UAE on the 1 January 2018 at 5%. Read more about VAT in the UAE.
Import duties
The customs duty rate on imported goods is usually around 5%. Higher rates apply to alcohol and tobacco. Some categories of goods are exempt, such as certain agricultural products, printed material and pharmaceuticals. Goods imported for industrial or manufacturing purposes may also be exempt.
You won't have to pay customs duties on goods imported into a UAE free zone.
Customs documents
The documents you need to export goods to the UAE are:
invoices (initiated by the supplier)
a certificate of origin
bills of lading or airway bill
Regulations
The UAE prohibits and restricts the import of some products. Find out which items are restricted or prohibited.
Other countries in the Gulf Cooperation Council (GCC) ban and restrict different goods, so if you want to re-export within the GCC make sure you check the relevant country's regulations.
Packaging requirements
The Gulf Standardization Organization (GSO) sets the framework for the UAE's packaging and labelling requirements.
All UAE food imports must provide the following information in Arabic, either as part of the packaging or as an affixed label:
products and brand name
lot identification
production and expiry dates
country of origin
manufacturers name
net content weight in metric units
list of ingredients and additives in descending order of proportion
Product standards
In addition to the Saudi-based GSO, the UAE also operates under the Emirates Authority for Standardisation and Metrology (ESMA). ESMA is a federal body which sets standards in the UAE on a wide variety of consumer products from food and drink to toys. It often introduces new standards for products coming in to the UAE, like quality marks. Check the ESMA website for new announcements.
Trade barriers
Check for any reported barriers to trading with the UAE.
Report any trade barriers that are affecting your business so we can help fix them.
Operating in UAE
You should always seek legal advice when doing business in the UAE, whether it's finding a distributor or agent or setting up an office or representation in the company. There are many English speaking legal firms in the UAE who often specialise in company law.
Intellectual property
As a first step, we advise you to speak to an intellectual property (IP) lawyer if you think you need patent protection when exporting.
While there is a legislative framework for IP in the UAE, there are no specialist IP courts and a lack of specialist local advocates. This can make civil litigation challenging, so enforcement of IP rights is often achieved in other ways, such as by filing complaints about counterfeiters with the police or customs authorities.
Business language
English is widely spoken throughout the country. Although it's common for written correspondence to be in English, Arabic is often preferred within some public sector organisations. It's a good idea to have one side of your business card printed in Arabic.
Business culture
Face-to-face meetings are preferred in the UAE because phone calls and emails are sometimes seen as impersonal. However, WhatsApp is increasingly used as a means of communication and LinkedIn, Twitter and Instagram are becoming more popular and are used for the promotion of business.
The working week in UAE is Sunday to Thursday.
Next steps
DIT can advise you on doing business abroad, and help put you in touch with other people who can help such as lawyers and distributors.