Political and economic stability
One of the most politically stable countries in Latin America, Panama is to over 90 local and international banks (World Bank, 2017). Its currency is the US dollar and there are no foreign exchange controls.
Regional hub and strategic location
Some of Latin America's most important ports are located in Panama. The Panama Canal cuts across the country connecting the Atlantic and Pacific oceans, and is one of the world's biggest shipping routes.
Generous tax incentives
Panama has one of the lowest corporate tax rates in Latin America (25%), as well as the lowest sales tax in the region (7%) (World Bank, 2019).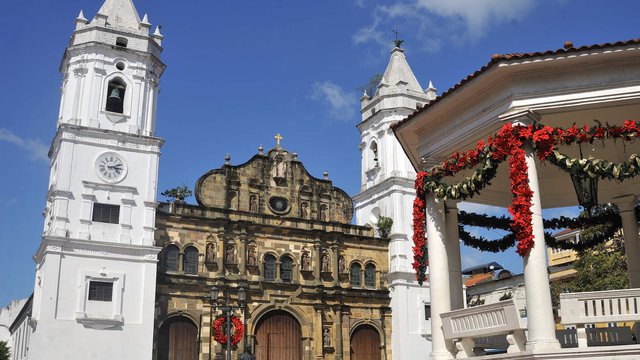 Opportunities for exporters
There are opportunities for UK companies across a broad range of industries. Our trade advisers in Panama have identified particular opportunities for UK businesses in the following sectors.
Infrastructure

The Panamanian government has invested heavily in developing the country's infrastructure as part of an ambitious public investment programme. The National Logistic Strategy aims to make Panama a global logistics leader by 2030, opening up multiple opportunities for UK businesses (World Bank, 2016).

New infrastructure development projects

As part of the 2016 Panama Canal expansion, further strategic improvements to this iconic route include a new container port, a liquefied natural gas terminal, logistic parks, and a roll-on roll-off terminal and ship repair facility. This provides opportunities for UK companies to provide consulting services, construction supplies and to bid for construction projects.

Expansion of transport and logistics network

Panama City's transport improvements include road upgrades and a new public transport system. Due for completion in 2035, the Panama Metro is halfway through construction and will eventually consist of five metro lines and three tramway lines. This also provides opportunities for UK companies to provide consulting services, construction supplies and to bid for construction projects.

Education

The government has incentivised learning English through training programmes abroad in English-speaking countries. The UK education sector has contributed to closing the education gap in Panama, providing access to updated teaching methodologies and English language skills to a new generation of teachers in Panama's public sector.

New initiatives to address skills gap

The 'Panama Bilingüe' project started in 2015, providing English language training to both teachers and pupils. This has created opportunities for UK teaching and higher education institutions in language training, curricula and testing.

Current demand

Panama's growing economy has increased demand for a qualified workforce to maximise the benefits of foreign investment in the country. Panama has its first technical institute, the 'Instituto Técnico Superior Especializado' (ITSE). Substantial business opportunities for the UK's education sector exist in areas such as English language training, technical and vocational training, transnational education.
Preparing to export
Taxation
The UK and Panama have signed a double taxation agreement, meaning the same income is not taxed twice.
Panama offers all available incentives equally to Panamanian and foreign investors.
VAT
If you're registered for VAT, it may be possible to zero-rate the goods you export to Panama, provided certain conditions are met.
All imports into Panama and some services are subject to 7% VAT (ITBMS). Certain items are exempt, including pharmaceuticals, food and school supplies.
Import duties
Duties are assessed and set in proportion to the value on the cost, insurance and freight (CIF) value. The Panamanian government has reduced tariffs in order to meet the requirements of the World Trade Organisation (WTO) membership.
Operating in Panama
Risks
There are some challenges for doing business in Panama. These include:
bureaucracy
lack of clarity and transparency in the public tendering process
slow judicial system
copyright issues
Read the overseas business risk for Panama for more guidance on the challenges of doing business in Panama.
Using agents and distributors
You're advised use a representative, distributor or commission agent with a commercial license. Securing exclusivity for a buying agent can be hard due to the competitive conditions of the market.
You must have a local counterpart or direct presence to participate in any Panamanian government procurement bidding processes.
Language
The national language in Panama is Spanish. English is spoken by some people in government and business, but is not universally spoken.
Most business documentation must be completed in Spanish.
Intellectual property
As a first step, we advise you to speak to an intellectual property (IP) lawyer if you think you need patent protection when exporting.
Panama's Copyright and Neighbouring Rights Law 1994 protects original literary works. However, there are serious flaws in protection for copyright works.
Piracy, particularly of sound recording and movies, remains a problem.
Next steps
DIT can advise you on doing business abroad, and help put you in touch with other people who can help such as lawyers and distributors.